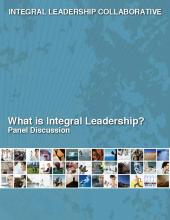 Papers from Brett Thomas's etal Integral Leadership Collaborative.
We have put these on this site for reference only. There are many issues with this definition of the leadership process that iM feel are too deterministic and limited. The ILC kosmos does not seem broad enough to include may other political and cultural prespectives.
See their website and facebook page for more detailed information and membership.
All materials - Integral Leadership Collaborative and Brett Thomas copyright.
.
Download Resource:
https://integralwithoutborders.org/sites/default/files/resources/Brett%20Thomas-What%20is%20Integral%20Leadership%20-%20Presentation%20Notes.pdf
https://integralwithoutborders.org/sites/default/files/resources/Brett%20Thomas-Introducing%20Leadership%20Rosetta%20Stone.pdf
https://integralwithoutborders.org/sites/default/files/resources/Ken%20Wilber-The%20Time%20has%20Come%20....pdf
https://integralwithoutborders.org/sites/default/files/resources/Don%20Beck%20-%20Integral%20Leadership%20in%20the%20Real%20World%20-%20Presentation%20Notes.pdf
https://integralwithoutborders.org/sites/default/files/resources/Integral%20Leadership-Selected%20Case%20Studies.pdf
https://integralwithoutborders.org/sites/default/files/resources/Universal%20Translator%20Reference%20Sheet.pdf
https://integralwithoutborders.org/sites/default/files/resources/Universal%20Translator%20Worksheet.pdf
Publication or release date: