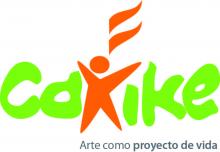 THE SOCIAL IMPACT OF A DALCROZE BASED MUSIC EDUCATION PROGRAM
Fundacion Cakike, Colombia
Introduction
Arts and music have become essential components in a number of social projects all around the globe. The immense benefits of expressions through the arts have proven to mobilize communities turning what seemed to be sterile grounds into blooming gardens that celebrate the inner potential of every human being.  Music can also be examined for its social functions as it reinforces social relations, and helps to introduce and define norms and rules of society. The positive social impact of music education are evident in successful projects, for instance  "El Sistema"  - the national orchestra program developed for communities in need in Venezuela; "Heartbeat" - an international foundation that seeks mutual understanding among opposing religious groups; and "Jeunes Musiciens du Monde" – an organization devoted to teaching local traditional to segregated children. Believing in the power of music as a tool to transform lives, the Cakike Foundation in Colombia developed its AmiMusik ("Friends of Music") project, with the mission of strengthening values through music education in children (5 to12 years old) living in situations of poverty and vulnerability in the city of Bogota. The Cakike Foundation targets the achievement and success of every child participating in the project, valuing the positive social impact music has in their lives and communities.
The music program established by AmiMusik involves the use of various music education methods, but its main focus relies on the Dalcroze approach.  The Dalcroze philosophy sustains a music apprenticeship that involves social, emotional and cognitive aspects. Considering the body as a vehicle for expression, this method applies music perception and understanding through body movements. In this integrated process, the individual is encouraged to experience a personal awareness while coordinating physical, emotional, cognitive, and social interactions. 
Educational and Social Means in the AmiMusik Curriculum
The curriculum developed for the AmiMusik project focuses on two main aspects: ethic moral values and music.
In the music curriculum classes are divided into segments that address general music education, music and movement, as well as performance practice. Both the music and movement strategies follow the Dalcroze method for its unique characteristics of presenting an integrated use of music, emotion, cognition, kinesthetic, and intellect, all in relation to social elements.
Emile-Henri Jaques-Dalcroze believed that music education should be available for every child regardless an innate talent or gift and that idea is strongly carried out in the music program developed by the Cakike Foundation. The AmiMusik project seeks to promote social changes and have a positive impact in the lives of young children in communities in situations of vulnerability. Its objective is to promote an educational and social experience through music that will positively and successfully transform the future of children living in conditions of poverty and vulnerability.
The Dalcroze approach to music learning through body movements offers an integrated experience that can bring benefits beyond music education, extending its effects to further development of both cognitive and social skills. The three components of the Dalcroze method- solfege, improvisation, and eurhythmics – exercises intellectual, emotional, physical and sensory responses simultaneously, thus integrating mind, body and emotions in response to rhythm and sound stimuli. There are important social components directly related to this consequent process of self-awareness, self-control, physical coordination, and self-expression. The physical adjustment sought in response to music (Frego 2008) helps the development of problem solving skills. At the same time, Dalcroze classes encourage cooperation, imagination, and creativity, therefore allowing individuals to assess their own abilities, emotions, and intellect. It also benefits individual's communication skills, musicianship and expressiveness while engaging students in expressing their understanding and ideas about the music. In a non-verbal response process, students then translate an abstract element 'music' into a concrete component 'movement' so creating a visual image of music (Mead 1994).
The Educational Proposal and Social Context of the AmiMusik Project
The AmiMusik project offers an integrated program of music and ethics education. Its mission is to promote an intellectual, creative, musical, ethic and social experience that will set lifetime values for a better future. It encourages every student to succeed creating a personal connection with the arts and finding a musical identity that defines his or her importance and role as an individual within society. The project incorporates solid musical skills and ethical concepts leading students to discover opportunities and perspectives for a better life.
The AmiMusik project works with more than two hundred and fifty children from various communities in situations of poverty and vulnerability in Bogota. Currently the project works with other organizations around the city: Fundación Laudes Infantis, JAC Juan XXIII, Fundación Internacional María Luisa de Moreno and Fundación Hogar Nueva Granada.  
Download Resource:
https://integralwithoutborders.org/sites/default/files/resources/Fundaci%C3%B3nCakikeTeachingValuesThroughMusic.pdf
Publication or release date: